United States consumers say Apple, Google, and Amazon are the top three most "relevant" brands, according to research from Prophet.
The data was based on a survey of 13,500 consumers in the US.
The consumers were asked to evaluate the relevancy of 275 different B2C brands in 27 categories. They answered questions in 4 different areas:
How difficult it is to imagine living without the brand.
How essential the brand's products/services are.
How well the brand creates an emotional connection
How much the brand innovates.
The brands that followed the top 3 are Amazon, Netflix, Pinterest, Android, Spotify, Pixar, Disney, and Samsung.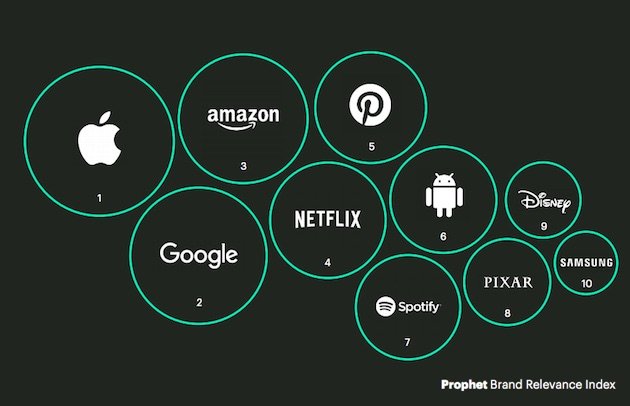 We look to these brands as examples of how businesses relate to each and every one of their customers. They define us as a consumer culture, the content they produce can change how we think and act. It is important to recognize the strategy that is involved in developing a relationship based customer culture in order to understand who we are as a people.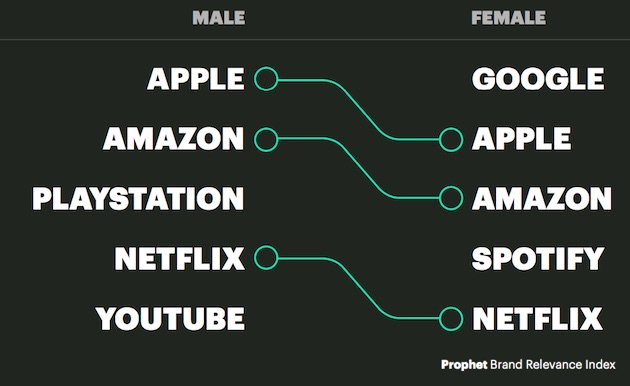 Taking into account age and gender can reveal the evolution of how we view our relationship with brands. Recognizing the marketing efforts these brands take to appeal to these demographics can reveal a lot about the products behind them and what inspired their creation. Revealing the truth behind supply and demand through marketing.