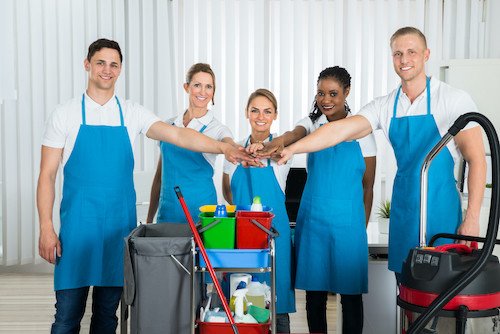 In the medical field, cleanliness is everything. Anyone who works in a hospital knows that everything needs to be sterile, disinfected, and squeaky clean. But how can you make this happen? On slow days you can have a staff member putting things in autoclaves, scrubbing floors and countertops, and keeping visible grime at bay, but what about when you're busy and there's no cleaner on hand? If you're working in a hospital in the sunshine state, it might be time to get commercial cleaning in Florida.
If you're ready to take the plunge but you're not sure if you can get the rest of the hospital staff on board, no worries. Keep reading for our top reasons that commercial cleaning in Florida is the best choice for all Florida healthcare businesses.
It Saves You Time
In a busy hospital, you don't have a lot of time to busy yourself with tasks that aren't part of your job. While you may have cleaners on staff, it can even be hard for them to cover enough ground, especially during the hours where fewer are around.
You don't want to give office staff, interns, or healthcare professionals the task of cleaning aside from the occasional wipedown. They have better and more important things to do.
When you hire a commercial cleaning company you know that professional cleaners are taking care of that for you. Their job is to clean, so there's no time being wasted.
It Saves You Money
You might worry that a commercial cleaning company is an unnecessary expense, but this isn't true. Consider all of the cleaning products that your hospital goes through every day.
You need to clean, disinfect, and consider any potential damage that could come about as a result of accidents and how to fix them. For example, you might need water damage restoration after a plumbing problem.
You can't afford to keep that damage there and it will become a more costly problem as time goes on. You also can't keep mold and mildew in the hospital or you put patients at risk.
When you hire professionals they come equipped with everything that you'd need to clean the hospital. They're also more affordable than hiring extra around-the-clock cleaners who need a salary or overtime to cover extra deep-cleaning tasks.
A commercial cleaning company can come in as often as you'd like to pick up the slack when your cleaners aren't around.
It Protects Staff and Patients
A clean space is a must-have for a hospital. Many patients are somehow compromised, meaning that even a little bit of dust, fumes, or dirt can cause a catastrophe. While equipment might be sterile, some patients need to be kept away from any kind of contaminant.
Even staff members aren't safe. When you're dealing with sick patients or even harsh chemicals you put yourself at risk of illness or injuries.
A clean space that's taken care of by people who know how to handle harsh cleaning chemicals, you keep everyone safe.
It Helps You Maintain Your Good Reputation
If you want patients to continue coming to you and you want to be able to hire the best talent, you need to have a good reputation and keep your hospital in good standing.
If people are getting sick at your hospital instead of healing, this can't happen.
Dirt and dust in common areas like staff break rooms and visitor waiting areas also factor in. If your staff feels as though the space isn't clean enough, they may feel inclined to go elsewhere.
Visitors who think that the waiting rooms are dirty may complain or try to pull your patients out to send them to a different hospital.
Even hiring carpet cleaning services for your waiting rooms can make a huge difference and give your visitors a better experience.
You Get Peace of Mind
Hospital life is hectic. You don't want to have to worry about the cleanliness of your facility on top of all of the other things that you're trying to manage.
You need to handle sick or injured patients, surprise situations, hundreds of important records, hiring staff, and everything else associated with keeping your hospital running like a well-oiled machine. You don't have time to focus on cleanliness despite how important it is.
Instead of stressing yourself out, hire a commercial cleaning company. You can rest easy knowing that someone is there to take care of your hospital when it's getting dingy.
You Know Things Are Done Right
When there's so much to do it's easy to cut corners. After all, a hospital is by nature a fast-paced environment. As we mentioned before, you don't always have time to do everything the right way.
This is where commercial cleaning services come in. They know how to keep everything clean, disinfected, and ready for visitors and patients. They're trained to do the job the right way.
Don't task your staff with doing untrained cleaning work or work that they don't have the time to do the job well.
Hire a Company for Commercial Cleaning In Florida Today
Part of your job as a hospital worker is keeping your facility clean and safe for staff, patients, and visitors alike. You can do that by hiring commercial cleaning services.
You can save money, save time, and save yourself the added stress. Hospital workers are already overworked and hospitals are already understaffed. Hiring a commercial cleaning company in Florida won't fix that problem, but it will help.
Are you looking for great commercial cleaning in Florida to protect your hospital? We're here to help. Check out the services that we offer and contact us today.