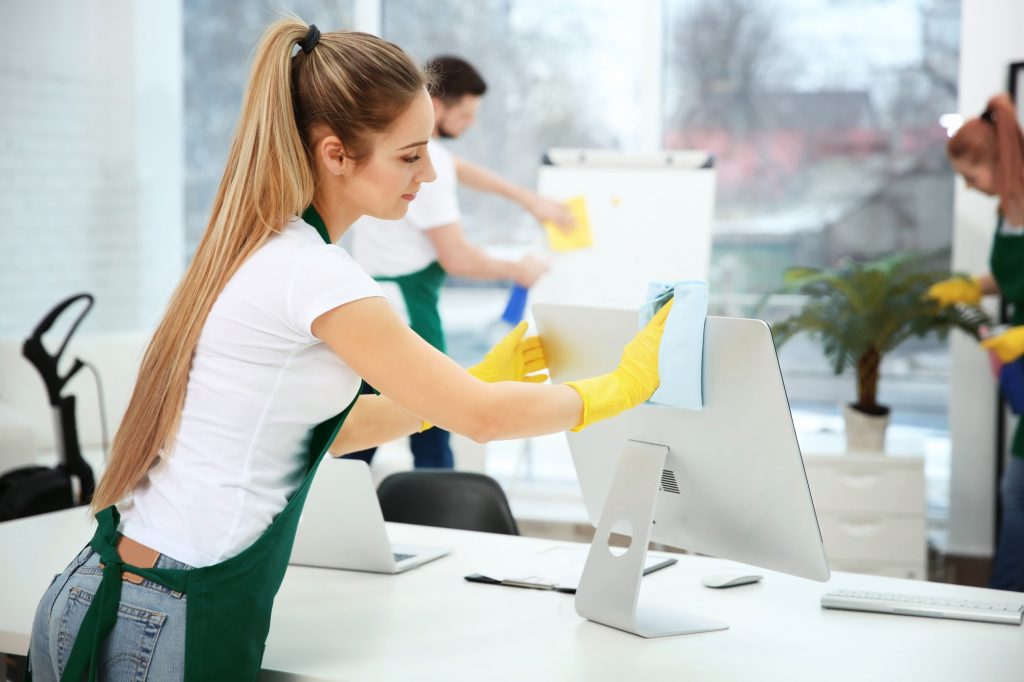 A frightening fact: office desks have 400 times more germs than office toilet seats. If you have a business, the more germs that stay in your facility, the more workers will call in sick. And if your building provides services to clients, you run the risk of making them ill as well.
After all, if you don't have time to clean the building yourself, why not hire professional commercial cleaning services?
Here are the seven benefits of hiring a commercial cleaner.
1. Increased Employee Productivity
Everyone loves working in a fresh, clean, and dust-free work environment. The surrounding air is fresh and healthy to breathe. Employees are less likely to get sick when your workplace receives a regular, thorough cleaning.
Having healthy workers means that work goes on as usual, and productivity will not be affected in any way by the absence of an employee. The workers work more consistently, hence contributing to the company's overall performance.
Workers who are happy to report to work get things done swiftly and stay with the company longer. A hygienic workplace sets your staff up for success.
2. A Positive and Professional Appearance
After walking into an office with stained carpets, overflowing trash cans, and dusty desks, how do you feel? You are disgusted by the first step you take into the office.
How about entering a thoroughly clean office that smells nice? You feel like your needs are about to be fulfilled, right?
That is why you need a commercial cleaning service for your business to portray a professional appearance to its customers. The image you portray to customers is a factor that will influence the success of your business.
Having a shoddy business environment will only tell potential customers that you offer shoddy work. While on the other hand, a clean and fresh business environment shows potential customers that you are professionals.
Here are three business housekeeping steps:
Keep trash bins clean
Reduce clutter accumulating on the stairways, walking areas, and halls
Have standard vacuum cleaners
Many places around your business need daily cleaning, but some require a more periodic cleaning routine.
Any place where you consume food requires daily sanitization to avoid the spread of diseases
Clean and sanitize the fridge weekly
Clean the stove and microwave daily
3. Increased Equipment Longevity
The better care you give to your things and relationships, the longer they last. The same principle will apply to your business premises. Lack of proper care for your building makes it start degrading with time.
The carpet will be the first to go if not taken proper care of because of the daily foot traffic it gets. Even so, when it's steam-cleaned and vacuumed well, the carpet will last longer. The carpet can withstand daily wear and tear.
You get to save money because you won't worry about replacing your carpet in a long time.
4. Higher Quality Cleaning Than Regular Cleaning
You may have janitors in your office premises that do daily cleaning around. The janitors do the daily routines. They include mopping, wiping windows, taking out the trash, and spraying the toilets. These cleaning techniques are not enough.
Your business premises needs regular deep cleaning and disinfecting. Professional cleaners ensure all disease-causing bacteria and germs are no more. Consider having regular commercial office cleaning services.
5. Protection Against Business Theft
Do you trust hiring any unknown cleaning company? Will your products be safe? Trust can be an issue when thinking of hiring a cleaning service provider. Your business might be at risk of theft from unscrupulous service providers.
Hiring unprofessional cleaning service providers may be risky because they do not do the job correctly. The cleaners may also loot your facility.
It would be best if you fit your business premises with cameras, and that is why it is possible to identify the thieves due to the technology.
But think of the time you wasted trying to recover your stolen items. The expenses you will put into the whole legal process.
Choose a commercial cleaning service provider with a trusted track record. That way, you can even leave them to do their cleaning even during off-hours.
6. Long-term Cost Saving
Unprofessional and less competent cleaning companies perform only the basics. Such as dusting the cabinets, blinds, and shelves. Basic cleaning leaves some areas untouched and may cause destructive contaminants to build up with time.
Professional cleaners will ensure your carpets and other equipment stay clean and free from ingrained dirt. Ingrained dirt will force you to buy new office equipment hence adding you extra costs.
7. A Wide Range of Services
What other services, apart from cleaning, do your chosen commercial cleaning service providers have to offer? Will they be able to clean the upholstery? Are they only offering the essential cleaning services which your janitor can do easily?
Commercial cleaning services providers should offer a wide range of quality cleaning services. If you are unhappy with how your cleaners are conducting their job, seek an alternative. Hire a professional commercial cleaner.
Hire Commercial Cleaning Services Today
Businesses are unique and will need special cleaning requirements. It is up to you to identify the missing links within your business premises and hire professionals for the job.
Hiring commercial cleaning services is a win-win situation for you. You get a clean work environment which increases business productivity.
At Mega Service Solutions, we will help you develop a workable cleaning and implementation plan to address all your cleaning concerns. We have trained cleaners equipped with the latest cleaning tools to ensure your office is clean and hygienic.
Contact us now to find out more about our services.